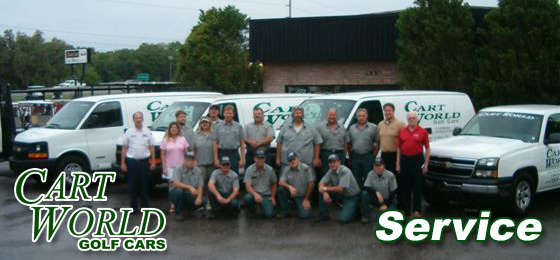 Our service technicians are Factory trained and continually attend Club Car Service schools to stay updated on the latest in golf car technology and service techniques.
No need to get a trailer to bring your golf car to us, we'll come to you! Cart World's Mobile Service fleet provides service right at your home!
Cart World stocks a wide variety of parts for Club Cars, as well as other makes of golf cars.  If your part is not currently in stock, Cart World can order your items and in many cases they'll be available the next day.  Plus, our Parts Department can ship parts anywhere in the country to meet your needs.
Cart World's Service Department is rated one of the industry's best. They received a rating of 53.5 out of a possible 54.75 in Club Car's latest Dealership Evaluation.  Ask about our Semi-Annual General Service which is performed right at your home.  Our modern, mobile service fleet with factory trained technicians will keep your golf car in tip-top shape and you on the golf course.
Cart World Golf Cars
133 Hermosa Street (Hwy 441/27)
Lady Lake, FL 32159
Phone: (352) 753-1800
Fax: (352) 753-1811
Contact our Service Department by using our contact form . . .